Q Acoustics Media 4

The multi-award winning Q Acoustics Media 4 soundbar is a high-performance active speaker, designed to deliver high fidelity music and high-quality audio from a TV, set top box, tablet or smartphone. Bluetooth technology allows you to wirelessly stream your favourite music from your phone or via services such as Spotify or Apple Music.

The Q Acoustics Media 4 soundbar features advanced 'BMR' (Balanced Mode Radiator) speaker drive units, which produce exceptionally wide sound dispersion. This not only creates clear room filling sound, but also means every listener will enjoy the same outstanding sound quality wherever they sit in the listening room.

The Media 4 soundbar's real bass is created by its acoustically matched, built-in, high-performance built-in subwoofer. You will enjoy a genuine 'cinema' audio experience with the Media 4 soundbar, compared with using your TV speakers alone.

Naturally, because the Media 4 is a 'Hi-Fi' Soundbar, it is designed to play music and movies with equal accomplishment.

With both analogue and optical inputs, the unit is, in reality, a complete one-box, standalone hi-fi system in its own right. It can also be used with a variety of other entertainment sources such as streaming services like Spotify, CD players, portable music players, computers and internet radio.
Built-In Subwoofer
Extensive market research helped us design the M4. You told us you wanted a very discreet single box solution, eliminating the need for extra boxes (subwoofers) and cables.
The M4's slim design and built-in subwoofer obviously overcomes the need for a separate subwoofer box and extra cables. When wall-mounted, using the included wall bracket, the distinctive flared shape of the M4 allows sufficient clearance behind the unit for the cable entry.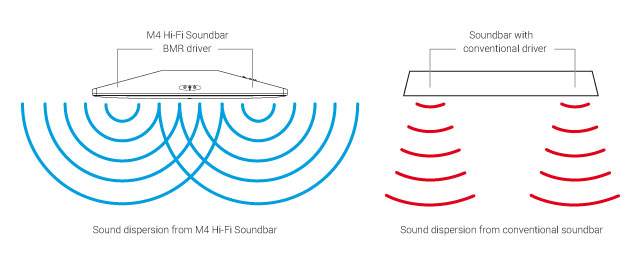 BMR
The Media 4 Soundbar uses 'BMR' loudspeaker drive units. These not only deliver outstanding sonic performance, but also disperse the sound across an exceptionally wide area. This means, wherever you sit in your room, you'll still enjoy the full hi-fi or home cinema experience. The diagram below shows exactly how the BMR drive units deliver its amazing performance no matter where you sit. Q Acoustics provides true audio with no added effects or digital signal processing to degrade the sound.
Ease of use
Using the Q M4 soundbar could not be easier. Simply plug it in, connect it to the source and it's ready to use. The M4 comes with a small five button IR remote control; however the soundbar can also be operated by the remote controls which come with 'Sky' and 'Virgin' set-top boxes.
This means fewer remotes to worry about, whilst still being in complete control. Better still, to save power, if the soundbar is not been used for 20 minutes, it automatically goes into standby, Therefore you do not have to worry about switching it off after every time that you use it.
Television and Movies
When you think about a soundbar you generally think it is to be used with a television. However, the Media 4 soundbar is perfect whether you simply want to enhance your normal TV sound, enjoy great music or if you simply want to be fully immersed in a movie you're watching. It brings a new level of enjoyment to your TV and movie watching. You'll wonder how you ever lived without it before.
Enjoy your music
There are simply so many ways you can enjoy your music on the new Q M4 soundbar. Whether you connect your CD player with analogue interconnect cables or wirelessly stream to it using the Bluetooth technology, you can listen to your music in true high-quality sound. When you're entertaining, why not stream straight from your Spotify account on your smartphone? Whatever your source, you're going to love listening to your new 'M4'.
Enhance your Gaming experience
Connecting the Q M4 soundbar to your games console will truly enhance your experience. Whether you play online, with a friend, or simply on your own, you'll almost feel like you are in the game. The soundbar can be connected to the Xbox One, Playstation 4 and other similar consoles to deliver a fantastic gaming experience.
What can the soundbar be connected to?
The digital optical and analogue inputs of the Q Acoustics Media 4 (Q M4) soundbar mean it can be connected to a wide range of entertainment sources; from your television, Sky or Virgin box, CD, DVD or Blu-ray player, all the way through to your smartphone, tablet, portable music player, computer or internet radio. The unit is also Bluetooth compatible (using aptX Lossless for audio streaming). This wireless connection can sync to almost any Bluetooth compatible audio device and can remember up to eight pairings. So when friends or family come over, a previously paired 'guest' music player can get connected in just seconds.

Can I pair more than one Bluetooth device?
The unit is also Bluetooth compatible using aptX lossless Bluetooth for audio streaming. This wireless connection can sync to almost any Bluetooth compatible audio device. The M4 can remember up to eight pairings, so when friends or family come over, a 'guest' music player can get connected in seconds. The aptX Bluetooth we use is V4.0 but is compatible with older devices and will work with most V3.0, V2.1, V2.0 even V1.2 devices.
The unit can have up to eight Bluetooth devices in its pairing list. When you pair with the 9th device the details of the first device will be lost. Once the unit is connected with a device, it will automatically stop searching for other devices. To connect to another device, either disconnect the currently connected source on the device itself, or press the Bluetooth Pair button on the rear panel of the unit.
What is NFC Connectivity?
NFC stands for 'Near Field Communication'. This allows you to link any NFC enabled device to the soundbar by simply touching your device to the 'pairing' point on the top of the soundbar as shown in the diagram below. Once you've connected via NFC you can stream music wirelessly via Bluetooth to the soundbar within a certain range.

Where to place my soundbar
The great thing about the Media 4 soundbar is that it can be placed nearly anywhere you wish. The three usual areas are: (a) on your TV stand, where its slim depth will allow it to fit on or into the many different TV stands. (b) wall mounted, to leave your home virtually clutter free and (c) placed on any other piece of furniture from a bookshelf to table. As the soundbar has so many outstanding features, it doesn't just have to be used with your television and, as a result looks, great anywhere in your home.
How to wall mount the soundbar
If your television is placed on your wall, the Q Acoustics Media 4 (Q M4) soundbar is a perfect match. It can be wall mounted using the wall mounting plate provided in the box. Please see the diagram below which explains how to wall mount the Q Acoustics soundbar.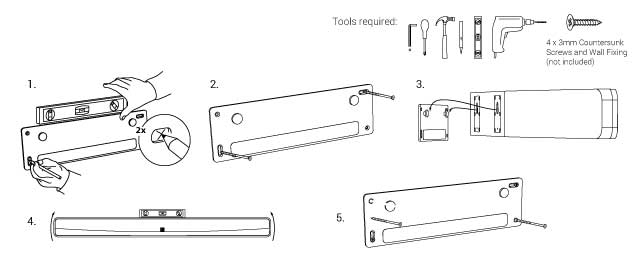 How to fix the feet on to the soundbar
The feet that come with the Media 4 soundbar are designed to reduce the vibration, and enhance the soundbar's sonic performance. We advise you to attach these feet if you are not wall mounting the product. Please see the diagram below to show you how to fix the feet on to the soundbar.

More Information

| | |
| --- | --- |
| Category Title | M4 Soundbar |
| Category Image | /m/4/m4web.jpg |
| Color | Gloss Black |
| Shape | Circular |
| Disable Purchase | No |