SKU
Q Acoustics Concept 20
The beautifully finished, compact and eminently affordable Concept 20 loudspeaker is designed for music lovers who wish to enjoy performances at their very highest quality. The Concept 20 changes everything. Their revolutionary 'GelcoreTM Construction' incorporated into their design means, for the very first time, music lovers can enjoy genuine 'high end' sonic performance at a very affordable price.
The astonishing ability of the Concept 20 is best revealed when the loudspeakers are used in conjunction with the matching Concept 20 Speaker Stands which, to optimise performance, boasts a GelcoreTM layer in its top plate. This is both visually striking and is resonance-free to optimise sonic performance. With the option of either lacquered gloss black, or lacquered gloss white, not only will they sound amazing, but will also look great. Their versatile design means they are also at home on furniture, bookshelves or suitable wall brackets. Wherever you decide to place them, they will deliver an amazing experience that many of those with a higher price range struggle to reach.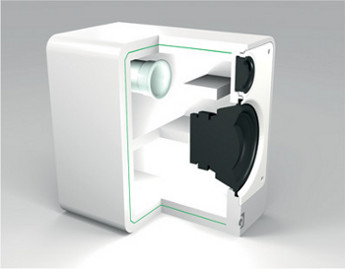 What is Gelcore?
The 'Concept 20' proves cabinet resonance need be a problem no longer.
Gelcore Speakers Incorporating a 'cabinet within a cabinet' design, its inner and outer enclosures are bound together by a bespoke adhesive which never quite sets. This configuration (known as Gelcore(TM) construction) allows the kinetic energy generated by the drive units within the cabinet to be dispersed as heat and preventing them colouring and degrading the speaker's musical output.
The 'cabinet within a cabinet' Gelcore construction dramatically reduces resonances and colouration. The 'cabinet within a cabinet' Gelcore(TM) construction
Combine this new cabinet design with the Concept 20's advanced, high dynamic, low distortion drive units and the result is a loudspeaker which, at its price, is nothing short of sensational."
More Information

| | |
| --- | --- |
| Category Title | Concept 20 |
| Category Image | /c/2/c20_glossblack.jpg |
| Shape | Circular |
| Disable Purchase | No |